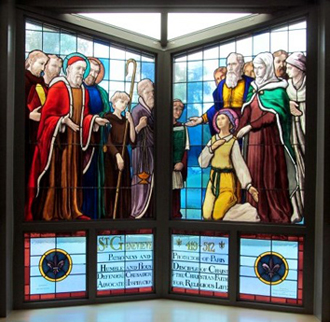 OUR MISSION STATEMENT
We, the church of St. Genevieve, are a community of the baptized in union with the Holy Father, the successor of Peter and Shepherd of the Universal Church.
It is our commitment to witness to others the gospel of Jesus Christ and invite one another to active discipleship by living lives centered on Gospel values.
WITH THE HELP OF GOD, WE:
Acknowledge that our community's reverent participation in the Eucharist is the source and summit of our Christian life;
Pledge to build Christian community in our world;
Recognize our obligation to provide Catholic-Christian education for all;
Will work for a more just and peaceful society, responding to the needs of the poor and the less fortunate;
Embrace all human life as sacred from conception to natural death.
HISTORY

The history pages of Saint Genevieve Parish were extracted from the 25th Anniversary Commemorative Booklet published on November 4, 1978. The following note is from its "Foreword".
Special appreciation must be expressed to Mrs. Theodore A. Noderer and
Mr. Joseph F. Stillmun, Jr. who planned, wrote and set-up this volume. This
is definitely their work. To them we are eternally grateful.
Here are some photo highlights from those pages. To download the complete History, please Click Here.